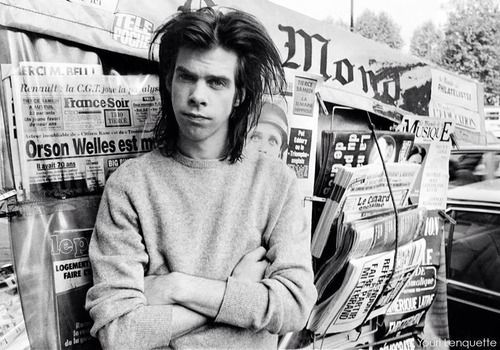 When I was a young lad at the age of eighteen I was writing for the Daily Cardinal in Madison, Wisconsin. The paper was one of the best college dailies in America. It was a very liberal freethinking rag with all the possibilities to save the world. I choose the arts and entertainment section. 
I used to write Primal Scream and Happy Mondays concert reviews with dodgy phrases like, "everyone was hav-E-ing a real good time!" No one knew what I was on about. I had just moved back from London to go to an American university. People called ecstasy X ("everyone was hav-X-ing a real good time!" doesn't have the same ring to it.) And no one knew The Stone Roses. 
Nick Cave came to Chicago. Tender Prey was the best album I had heard that year. I was sent down to do an interview. It was set up that we would meet in a restaurant. Nick and the Bad Seed boys ordered the most expensive wine on the menu and didn't answer one question. They left me with the $700 bill. I put it on the photographer's dad's credit card. 
For a while I was mad at Saint Nick. It didn't last. 
Soon I had to move away from Madison because the Americans and me weren't getting along. They hadn't heard of The Stone Roses. I couldn't live in such a society. 
I went to school in Paris. I meet a Korean architect who was also into Nick. We used to drink wine in the chilly Paris winter and listen to Murder Ballads. Joon would say, "The Artiste has released a masterpiece." Nick couldn't do wrong. At least musically, he wrote a novel that isn't very good. 
One blinding sweltering Paris summer day Joon and I were coming back from a mid day picnic down by the Seine. We were slightly drunk on Pastis when we saw Nick entering the Musee Rodin with a NME journalist. It was an intensely hot day, and Mr. Cave was dressed from head to toe in black. He had to be suffering for his art. I wanted to yell out, "Act like an Australian for once!" but I didn't. Too much respect for the Artiste. Though I could do with that $700.