The majority of Pax Acidus content was created from 1997 to 2001 at "The Bottle of Blue Nail Polish", McCutcheon's nickname for the rather squalid basement flat they shared on Capitol Hill in Seattle, Washington.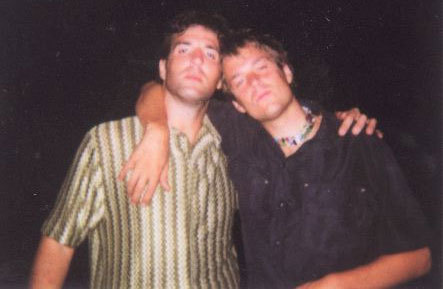 Their building was later condemned and replaced with a soulless condo, but this website remains and includes content from that period... as well as various works from after that "golden age".


Background
Although yanks by birth, the pair met in 1992 in Paris, France. They became fast friends while partying, traveling, and bonding over their love of music and literature. Eventually a collaboration of some sort was in order. This site, Pax Acidus, was that collaboration.



Dedication


Over the years we've had a fair share of tragedy in our literary community.


 In 2000 we lost Tara, an Olympic-class swimmer, musician, and all-around amazing person. Maybe the most amazing person. Her van flipped on the highway and she was pronounced dead at the hospital. She was 20 years old.
 Two of our most active posters in the Bulletin Board of Bad Behavior, Marky and Tommy Martin, took their own lives. We don't understand why, but we love you.
 The graphical style of the site (the green and the black) was donated by John Black (of Stiletto Magazine fame), who has since died of Leukemia while only in his early 30's. We love and miss you John. You went way too early.
 As William Joel once sang, only the good die young. Sloth lost his London college roommate turned good friend and amazing music journalist Dafydd Goff to testicular cancer at age 35. Fuck you, cancer.

Thank you


We thank all those who have
written us
over the years and offered your appreciation and support. It was, and still is, greatly appreciated.
Burnt Roof of Mouth, a novel by McCutcheon
"Very readable in the "genre" of the "beat generation" greats. Mccutcheon's protagonist is very likeable in spite of, or perhaps because of, his fixation on alcohol, drugs, sex and his proclivity to being beat up." - Amazon.com review (*****)
Sex Drugs and Rock'n'Roll Never Goes Out of Style
"Remember that time you had a brilliant time and you told me all about it, and in the telling, it didn't seem all that great? Well, that's because you're not Mr McCutcheon." - Tommy Martin (RIP)
Newsletter subscription
Subscribe to our newsletter to receive news & updates.