Why is Kate Moss on the Bus?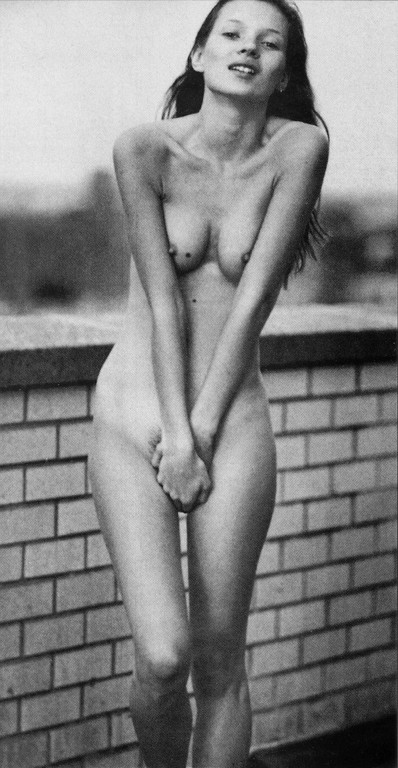 Because we like people who are famous for no reason. No, really. We need Super Models. Think of all the fat ugly people out there. I don't know of any personally but I've seen pictures. These people need something to get them off. Wouldn't you rather have them spanking the monkey and spunking on a sexy screen saver than roaming your neighbourhood in a trench coat on a warm July evening? I think I would. So Super Models serve a purpose. They keep perverts inside. 
But Kate is not your average Super Model. She is not huge like Cindy Crawford. No she is just a little waif who loves her mischief. And Kate can be naughty. She goes out with bad boys like the talented Johnny Depp (who has a few love issues to deal with) and the more wasted than talented Evan Dando. Kate also likes her drugs. She is not thin because she starves herself. She is thin naturally, and who can eat on cocaine and heroin anyway?
Kate is currently spending time in a posh rehab clinic in London. We hope she gets well soon. It's lonely times. Even for the beautiful, rich, winners like Kate. 
P.S. My mate Trevor and I always get into a heated discussion down the pub, after five pints and we've forgotten who's round it is. It usually goes something like this:
Trevor- Who's round is it?
Me- Yours.
Trevor- No, I got in the last one.
Me– No I did.
Trevor– No it was me.
Me- Then why'd you ask?
Trevor- What?
Me- Why did you bloody well ask who's round it is when you bought the last one? 
Trevor- Well,…All English girls are ugly.
Me– No they're not.
Trevor- Yes they are. British people are the ugliest people on earth. The Welsh are sheep shaggers because they would rather fuck a sheep than a dog, the Scottish fuck pigs and even girls who live in London are ugly. London has the ugliest girls of any major city. 
Me– Kate Moss, Kate Moss is BEAUTIFUL!!! You fuckin' wanker.
Trevor– What do you know, you like Oasis.
Me– Oasis is fuckin' rock and roll.
Trevor– Oasis is shit. You better not put them up on that stupid web site of yours.
Me– I haven't.
Trevor– Or that anorexic chick.
Me– Who Kate?
Trevor–Yeah.
Me– Look around here. You see anyone you would rather shag.
Trevor– No.
Me– OK. She's not so bad, right?
Trevor– Right. 
Me– I'm glad we agree.
Trevor- Good. Who's round is it?
P.P.S. The above dialogue is all false and made up fiction. In no way does it represent anything ever said by any living or yet to be born person. Any comparison to the night out on July 21st 1998 from 7:33pm – 1:56am, down the George and Dragon pub, at a table in the back corner where McCutcheon (who looks like a male model) and Trevor (who has a face for radio) sat and drank is just not true. 
British Model Admits 
''Losing Plot'' on Drink, Drugs 
Reuters 
17-FEB-99 

LONDON, Feb 17 (Reuters) - British supermodel Kate Moss has revealed she is a recovering alcoholic who at one stage had not walked down a catwalk sober for 10 years. 

Moss, 25, described a hedonistic jet-set life of champagne, vodka and cannabis in her decade as a top international model. 

But she told The Face magazine in an interview that "things got out of control" and that after five weeks in a London clinic specializing in drink and drug abuse she hopes to have put the past behind her. 

Moss, who came to fame as a waif-like 15-year-old, said that in the worst days of her addiction she started drinking at 10 in the morning and would carry a hip flask on photo shoots. 

"I kind of lost the plot really there a little bit," she said. "I don't want to go back to how I was." 

Moss said she had not walked down a catwalk sober in 10 years in a world where some top models regularly started their days with champagne. 

"That's what you do. You just kind of have champagne. You always have champagne before shows. Always. Even at 10 in the morning. It got to the point one time when we said 'We're not going out without any champagne.' Terrible." 

Millionaire Moss, who now attends meetings of Alcoholics Anonymous, said she started drinking and smoking cannabis at the age of 12 in the homes of friends on her way to school in south London. 

After booking herself into a London clinic in November, she says she has now thrown out her hip flask and has never been happier. 

"I'm sober. I'm single. I have great friends. I like my job. I'm not stupid," she said.