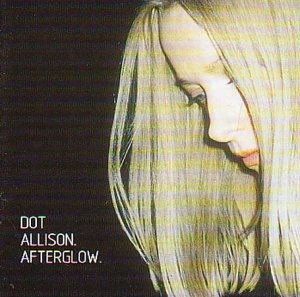 McCutcheon in England:
It all started a couple years ago. I was living in Paris. Primal Scream and Orb were playing a benefit gig in Sheffield. I took a flight over to London. A bus to Sheffield. I dropped some mild ecstasy and danced. The next morning, still high, I took the bus back down to London. I ended up in Paddington station. 
Everything was closed. I spent the rest of the early dawn coming down in a classic red London phone box. A few nights later I saw One Dove play a crowded pub in Camden Town. It was one of their first shows. Dot Allison was the lead singer. The band played trip hop psychedelic before the term was invented. Dot was mesmerizing on stage. The sweaty crowd went wild. So did I. 
Dot Allison in Seattle:
Jump a few years ahead. Present day. Dot Allison is playing a solo gig in Seattle. She is promoting Afterglow. I hadn't heard the album. I was skeptical. 
Too much time had passed. I worried that what was once fresh and innovative would be stale and old. Pop music waits for no one, and it was harder for Dot than most. One Dove had a bitter break-up and a 1996 car crash left her in a wheel chair for 4 months. But I was on the guest list. It was Saturday night. So I went, hoping for the best, prepared for the worse. 
Afterglow in stereo:
There is nothing worse than a cute female singer fronting a 5th rate Portishead. Luckily, Dot is not cute, she is breathtakingly beautiful, and sings ethereal vocals over deep warm music. The songs on Afterglow play out like cupids from heaven. Dot had the foresight to bring in talent on this album. 
Tomorrow Never Comes- an acoustic lullaby. 
Close Your Eyes- is the first single, more rock than disco. 
Morning Sun - a song co-written with Richard Fearless (her boyfriend) of Death in Vegas is an eight minute twist of Mowgai and Aphex Twin. Beautiful and lost. 
Mo' Pop- upbeat with horns and airy Orchestration. It's the song that closest resembles One Dove. 
Message Personal - has Dot singing over a melancholy beat and Kevin Shields from My Bloody Valentine plays guitar as she dares you to love her and hate her. Dot will show you a good time, but she won't be there in the morning. And this song appears twice on the album. The second time it's done with a remix by Arab Strap. It's the best late morning come down song since Primal Screams' Damaged. I might as well be back in that red Paddington phone box. 
Dan Savage in ARO.Space: 
Take the opportunity to see Dot Allison live. Even Dan (I hate dance music) Savage was at the show. I know his boyfriend Terry brought him along, and old man Dan couldn't surpass a rude yawn, like the trick college students use. You know, start yawning and soon everyone in class starts yawning. It's supposed to be infectious. Didn't work here. The sparse but clued in crowd went wild. And the music must have had some affect on Dan, because after the show he un-hooked one of my girlfriend's bra straps on the dance floor. Just like a 5th grader. Not exactly the way a new father should behave. 
Oh well, they say the best music brings out the kid in you. I just make fun of Dan because he is a personality. No personal offense. His sex column is great. He has a new book out called The Kid. You should all go out and buy it.